Dr. Angela Smith, DVM, MPH
Veterinarian and Practice Owner
Dr. Angela Smith was born in Toronto and has lived in Mount Albert since 2004. She obtained her Doctor of Veterinary Medicine at the Ontario Veterinary College at the University of Guelph in 2001 after completing her Bachelors of Science degree. Dr. Smith's strong interest in veterinary and community public health lead her back to the University of Guelph to complete her Masters degree in Public Health in 2013.
Dr. Smith's professional interests include feline medicine, ophthalmology, soft tissue surgery, public health and emergency medicine. She worked at the Emergency Clinic of York Region for over 12 years while still working in private practice. One of the things Dr. Smith enjoys about being a veterinarian is the ability to educate her clients about how to reduce the risk of infectious disease in their pets, and how to minimize their exposure for those diseases which are zoonotic – a disease that can be transferred from pet to person. Providing optimal pet health impacts the health of the family, and in turn improves the overall health of our community.
When she is not working, she enjoys the outdoors, gardening, cooking and spending time with family and friends. One day she hopes to have the opportunity to travel and volunteer with Veterinarians Without Borders. She currently has two amazing cats named Sydney and Titus.
Associate Veterinarian 
Dr. Katherine Tran was born and raised in Toronto, and completed her Doctor of Veterinary Medicine degree at Western University of Health Sciences, in sunny Southern California. She previously obtained her Bachelors of Science (Honours) at McMaster University, with a specialization in Environmental and Earth Sciences.
Her professional interests include feline medicine, Dentistry, and preventative healthcare. She is Fear Free Certified and is committed to making veterinary visits as pleasant for her patients and their families as possible. Prior to becoming a veterinarian, Dr. Tran worked in the marketing industry, so has made managing the clinic's social media her passion project since joining the EGVH family.
Dr. Tran loves hiking, trying new recipes, and brewing her own kombucha. Her and her fiancé, Charles, share their home with Mia, a black cat with a lot of personality, Mabel, a tripod cat that doesn't let being on three legs slow her down, and Amigo, a dog with hindlimb paralysis that loves zooming around in his wheelchair!
Locum Veterinarian
Dr. Anna Allossery was born in Ireland but moved to Canada at a young age. She was raised in Kitchener Ontario, spending most of her childhood begging for new pets and enjoying sleepovers at a friend's dairy farm. After finishing her undergraduate degree in Biological Sciences at the University of Guelph, she then attended the Ontario Veterinary College to complete her Doctor of Veterinary Medicine degree.
Anna prides herself on providing compassionate, targeted care to all of her patients. She has a special interest and love for managing ongoing conditions of pets in their golden years. Her other professional interests include Internal Medicine, Opthalmology, and Dermatology.
When she isn't working at EGVH, you can find her helping her husband, Dr. Matt, with their mobile equine practice, playing with her two daughers Maeby (5) and Shirley (4), and snuggling with her 4-legged family members (She-Ra the lovable border collie mix, and Auston Catthews the barn-cat-turned-house-cat).
Registered Veterinary Technician
Chelsea was born and raised here in Mount Albert – more specifically, Holt. She has always had a passion for animals, and from a young age knew that one day she would work in the Veterinary field. Her dreams soon became a reality when she started volunteering at East Gwillimbury Veterinary Hospital not to long after its opening in 2015. Later that year she began the Veterinary Technician program at Seneca College while continuing to work part time at EGVH, learning valuable skills from Dr. Angela and Tricia. Chelsea graduated and gained her Registered Veterinary Technician status in 2017 at which point she began working full time here at EGVH. Chelsea has many interests in the veterinary field, including Dentistry, Emergency Medicine, and Anesthesia and Analgesia. In the future she would like to pursue a specialty in Anesthesia and Analgesia. In her spare time, Chelsea enjoys doing several different arts and crafts, including painting, making wooden signs and indoor decor, drawing with a variety of different mediums and many more. Chelsea also enjoys baking, camping, and spending time with family in friends. She is ruled by her Border Collie/ Husky – Tia, as well as her two 20 year old cats – Clyde and Chloe and a hyperactive brown tabby named Zoe.
Registered Veterinary Technician
Hello, my name is Dakota. I am a newly-graduated RVT from Seneca College. I started my time at EGVH during my co-op placement during school, and was thrilled to be hired as a full-time registered veterinary technician upon graduation. As a certified Reiki practitioner, in the future I hope to also provide healing Reiki energy to animals. I currently share my home with my family, which includes my lovely husky-cross baby named Whittaker, and two horses, Dodger and Jewel.
Outside of work am a very active person. I love to horseback ride competitively and for pleasure, hike with my dog, and just spend time in the fresh air. And of course, I love a good Netflix binge, but also can really sink into a good book!
Veterinary Technician
Tricia is a life long East Gwillimbury resident. She was born and raised on a local family farm and continues to live on a horse farm just a short drive away. Tricia has her Bachelor of Science in Biology from the University of Guelph and has worked as a veterinary technician for over 20 years.
By working at the EG Veterinary Hospital Tricia has returned to 'her roots'. Her Mom and Grandmother were raised on farms less than a mile away and used to buy their groceries and stamps at the store that was originally at this location. It was on the family farm that Tricia first developed her love of animals, both big & small. Although she is no longer riding horses as 'the girls' fit much better in her car!
She has a strong interest in animal behaviour and tries to make every animal experience at EG Veterinary Hospital a positive one.
Tricia shares her home with 'the girls', her 2 dogs (Kix & Steele) and 'the boys', her 2 cats (Jeff and the elusive, rarely photographed Dougie)!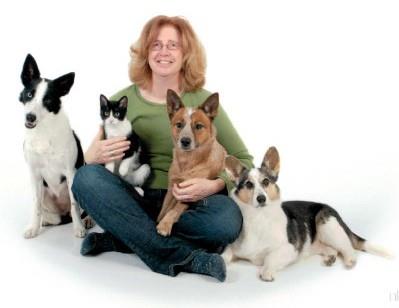 Veterinary Assistant
Sara has lived her whole life in the Town of East Gwillimbury.
A lifelong love of animals big and small, has led her to her current position here at East Gwillimbury Veterinary Hospital where she has worked as a Veterinary Assistant since 2016. Since working at the clinic, Sara has gained many clinical skills and a passion for animal healthcare. In her spare time, Sara enjoys riding horses, which she has done for the past 15 years. She also spends most of her time with her 4 dogs (Gunner, Piper, Milo, and Rufus), 2 cats (Felix & Frankie) and her family. Sara also likes to spend time doing many different outdoor activities such as fishing, ATVing, and spending time at the cottage.
Animal Care Attendant
Kathleen was born and raised in Keswick. She has always had a passion for large and small animals. Growing up in the equine world, riding horses lead her in knowing she wanted to pursue a future in working with animals.
In 2019, Kathleen started her high school co-op placement with us at East Gwillimbury Veterinary Hospital with hopes to gain experience to enroll in the Veterinary Technician program. In 2020 Kathleen graduated from Keswick High School and has since been working full time at EGVH as an Animal Care Attendant, learning valuable clinical skills from Dr. Angela, Dr. Katherine, Dr. Anna, Chelsea, Tricia, Sara and Dakota. She is currently in the process of applying for school to become a Veterinary Technician.
Kathleen hopes to pursue becoming a large animal Veterinarian. She has a special interest in equine rehabilitation. In her spare time, Kathleen finds herself spending most of her time with her Thoroughbred horse, Whiskey.
Outside of the veterinary hospital, she enjoys playing soccer, going to her family cottage, and doing a variety of outdoor activities including boating, kayaking, and swimming. Kathleen spends a lot of time with family and friends, and is often accompanied by Daisy, her family dog, and Peggy, her three-legged cat.
"Quality Control Officer" a.k.a. Clinic Cat
This lovely girl was a stray here in Holt and stole our hearts immediately. After searching and no one claiming her, she has now become the top member of our team!